On Labor Day weekend, I had the honor and the privilege to be a temporary goatherd. Yes, I know what you are saying: "Why?"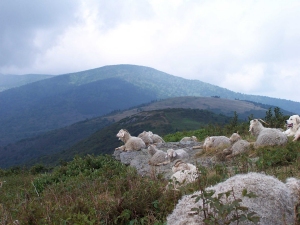 This is the second year of the Baa-tany Goat Project to restore the grassy balds on the Roan Highlands. This is along the Appalachian Trail from Carver's Gap, at the North Carolina – Tennessee state line to the slope of Grassy Ridge to the east.
Why? Because I see what will be lost in a few short years if nothing is done. Jamey Donaldson is the research biologist in charge of the Baa-tany Goat Project. He presented a pictorial record at one of the Naturalists' Rallies. You could see and compare the pictures for yourself. Or, if you have hiked the grassy balds over any length of time, you have seen for yourself the ever invasive blackberries growing where there used to be open grassy areas. If you get a chance to see Jamey's presentation, you will be stunned by how rapid the invasion really is.

So that is why I am interested in helping with the Baa-tany Goat Project. By goat-sitting for a weekend, Jamey got to go off the mountain for a while. I got to camp in the gap between Grassy Bald and Jane Bald. And do a little bit to help restore and preserve these wonders.